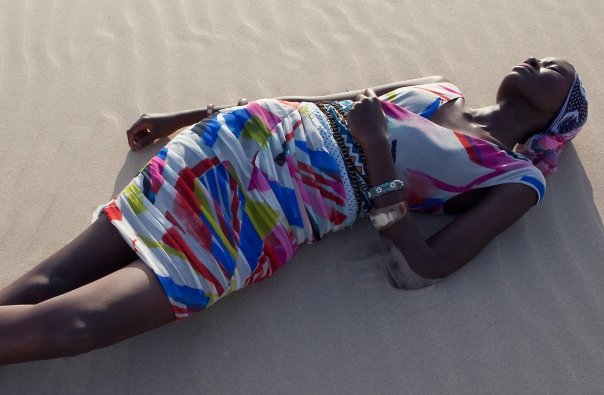 Watch your roosters, there's a new hen in town! This Swahili aphorism is one of several that Kenyan-American designer Max Osterweis worked into the vivid prints of his premier collection,
Suno
.
The inspiration for this new kid on the block designer came from the decades worth of collected East African kangas that he compiled while visiting his mother's vacation home in Kenya. Though there's no doubt that Osterweis lets his clothes do the talking, the fact that the designer is stimulating Kenya's economy and development by working with local Kenyan talent is something worth buzzing about. Osterweis trained sewing techniques to citizens who had previously lost their jobs due to failure in Kenya's textile industry - therefore creating new commerce and job opportunities for the country.
The production for the line takes place first in New York with design and development, and then in Kenya where the artisans work with vintage Kenyan kangas to bring the samples to life. The inspiration for the line follows suit as the cleverly clashing patterns of the collection pay homage to the women of both East Africa and Downtown New York. The result is playful mix and match patterns cut to sophistication. With a collection of one of a kind prints and styles, these standout pieces are destined to turn heads wherever you go. We're not the only ones who think so - Women's Wear Daily, The New York Times, and Style.com have all taken notice of the label's debut collection.

by Daria Radlinski for Opening Ceremony.us